Commissions
The following will give general pricing guidelines and may not reflect the final price of any given piece.
We keep all commissions on our public Trello queue! If you intend on commissioning us, please view our Terms of Service (TOS)!
Digital Character Illustrations
Starting at $150

Full-body illustration of your character of choice
- Flat color; no shading
- Props at client's request
- Minimal/flat background

Character Reference Sheets
Starting at $200

- Front and back of your character
- Name and color palette
- Written details
- Flat color; no shading
- Minimal/flat background
* Inquire about add-ons!

Client must have an existing reference. (pre-existing artwork, or base fill-ins with color swatches work! I just need something visual to go off of.)
Telegram Stickers

Base Prices
Single: $40
Four pack: $150
Eight pack: $300
Add-Ons
YCH +$10 per sticker
Additional Character +$15 per sticker
Additional Information
Client receives transparent 512x512 file to make into their own sticker pack. Credit sticker is given as well, and must be added to the pack. Waist up by default, though you may request fullbody, headshot, etc. May request props or text for no additional charge. Flat color, no shading.
References for poses are not required, but appreciated. especially if you would like a meme draw-over or specific pose.
Client must provide a flat, unshaded digital reference sheet, and any additional details during transaction. I do not work off of character descriptions.
Telegram sticker packs are made to be used in the instant messaging app, "Telegram", though they may be resized and used in other messaging app's that allow custom emojis. You may also use the digital art files for personal use (restrictions stated in TOS) so long as the artwork itself is not edited. You may not use my art for profit under any circumstances.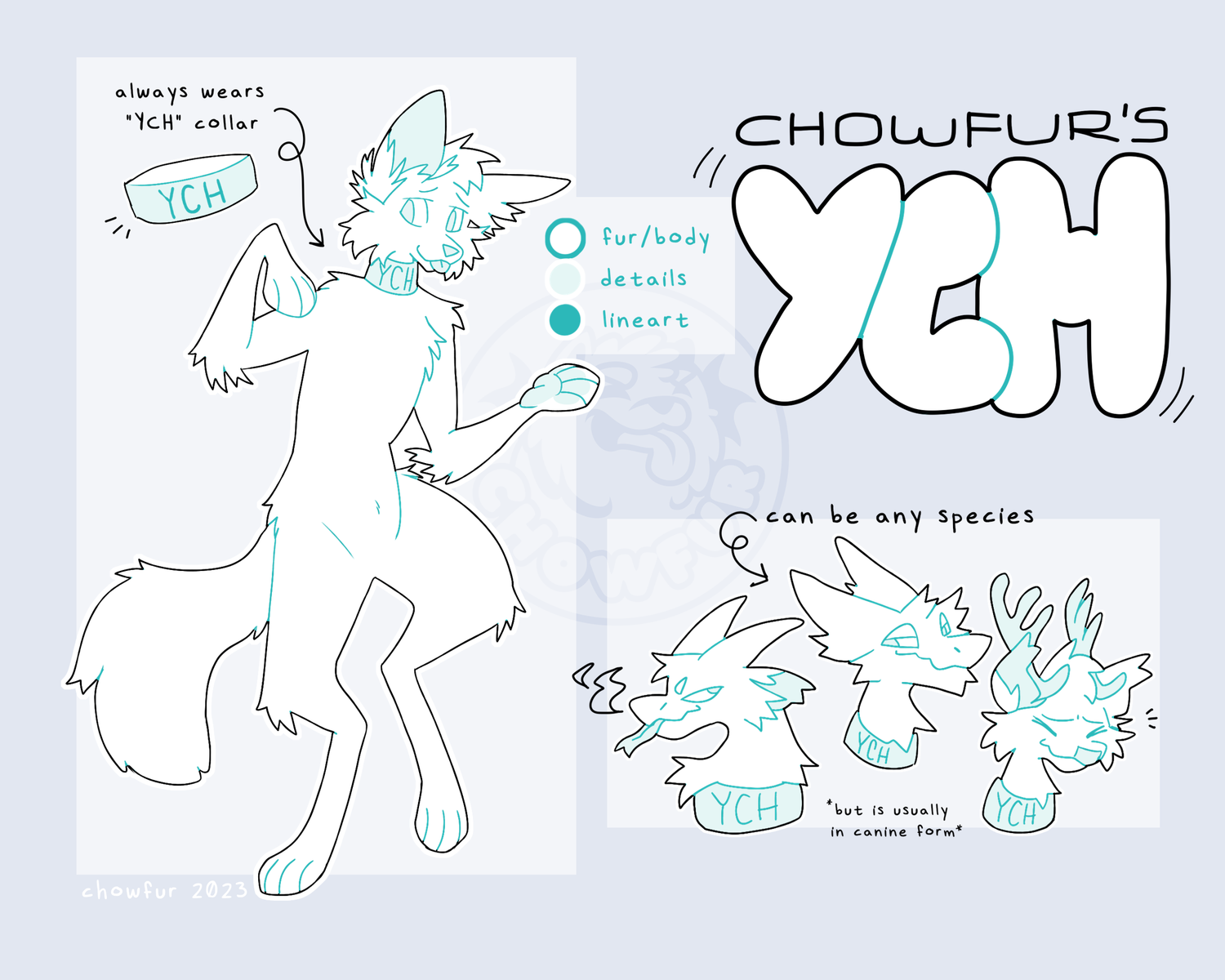 Your Character Here!
This is my "YCH" design!
If you want a YCH insert in your sticker pack, this is the design and colors that will be used.
If you would like an exact quote, please email us at chowfurart@gmail.com or utilize the contact form below.
If you are interested in a type of commission that is not listed here, please reach out! All quotes are provided in direct reference to the price sheet, but will fluctuate to meet an individual client's needs.
Stay up to date with our commission openings by joining our Telegram Channel, or by following us on social!
Join us on Patreon!
2023's Patreon theme is Tourist Trap. Be careful - you might get a cryptid in your mailbox!!
Patreon supporters receive lots of benefits! These include early access to all commission openings, exclusive Patreon-only commission types, and access to the Chow Cult Discord server where we post WIPs and insider content!